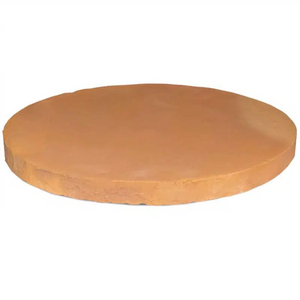 This round Biscotto stone has a diameter of 19 ¹⁹/₆₄ inches (49 cm) and a thickness between 1 to 1 9/16" (4 cm).
Enables high-temperature pizza roasting on Kamado-type, Green Egg or other BBQ grills where there is otherwise a problem with a burnt pizza base on a "normal" pizza stone with high thermal conductivity.

This stone is produced in a small village outside Naples called Casapulla according to old traditional methods that stretch back several hundred years.
The stone is porous thanks to the volcanic clay mixed into volcanic ash. This in turn leads to very low thermal conductivity and a moisture absorbing property and hence perfect pizza every time. Biscotti stone from this village is used in professional pizza ovens around the world.
All stones are shipped safely in a box with shock-absorbing materials to avoid breakage.

Before use: Please read the instructions on this page:
https://www.biscottostones.com/pages/before-use-of-the-biscotto-stone
Biscotto stone is not a perfectly carved stone
Since these stones are handmade, they can vary some in size, or be uneven on the edges. Uneven edges can be sanded down with a fine graded sandpaper. Due to the fragile nature of the stone, we do not offer any guarantee on the stones after delivery. This is standard industry practice.
Biscotto Stones International offer a guarantee during transport from our storage to delivery. Delivery is when our courier has reported the stone delivered. If your stone arrive broken/cracked, you must contact us immediately by email, and no later than 48 hours. This for the guarantee to be valid.