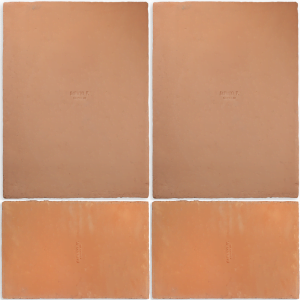 We where able to get the hold of Biscotto upgrade floors intended for the PizzaParty Pizzone.  The floor is 31.5" x 23.6" x 1" (80 x 60 x 2.5 cm), divided into 4 stones (40 cm x 30 cm)
This also fit the Family and the Pulcinella models.
The stone is divided into 4 parts to be able to enter the doorway. Manually produced in Naples from a special clay blend mixed with volcanic ash based on a centuries-old method.
NOTE:This product is cut when ordered, must be ordered through post@biscottostones.com, due to the weight of this product. We must special order this at DHL Express. Biscotto Stones International will create an offer including freight that can be accepted and payed in the web store. 
PS! The picture is an illustration and does not reflect the appearance of the biscotto stone which is in 4 parts. 
Shipping dimensions:
4 boxes of 21 x 51 x 4" (53 x 52 x 10 cm) or

1 box

 of 18 1/2" x 14 9/16 x 11 13/13" 

(47 x 37 x 30 cm)
Weight: up to 20 Kg or 44 lb. 
Before use: Please read the instructions on this page:
https://www.biscottostones.com/pages/before-use-of-the-biscotto-stone
The stone is shipped in reinforced cardboard boxes with biodegradable foam balls for with shock-absorbing materials to avoid breakage and safe transport.
Biscotto stone is not a perfectly carved stone
Since these stones are handmade, they can vary some in size, or be uneven on the edges. Uneven edges can be sanded down with a fine graded sandpaper. Due to the fragile nature of the stone, we do not offer any guarantee on the stones after delivery. This is standard industry practice.
Biscotto Stones International offer a guarantee during transport from our storage to delivery. Delivery is when our courier has reported the stone delivered. If your stone arrive broken/cracked, you must contact us immediately by email, and no later than 48 hours. This for the guarantee to be valid.