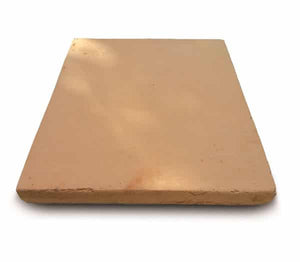 This pizza stone (Biscotto) is used, among other things, in the electric pizza oven from Effeuno as a replacement for original refractory pizza stone. Compared to refractory stones, Biscotto stones have better thermal properties (low thermal conductivity) to retain and distribute heat evenly over the entire surface of the stone. In addition, it will attract moisture from the pizza dough which results in the possibility of higher temperatures and shorter baking times for pizza. Biscotto is produced in Naples by a real craft company with roots far back in history and proud traditions in the production of floors for pizza ovens. 
Before use: Please read the instructions on this page:
https://www.biscottostones.com/pages/before-use-of-the-biscotto-stone
The stone is sent safely in a box with shock-absorbing materials to avoid breakage.
Biscotto stone is not a perfectly carved stone
Since these stones are handmade, they can vary some in size, or be uneven on the edges. Uneven edges can be sanded down with a fine graded sandpaper. Due to the fragile nature of the stone, we do not offer any guarantee on the stones after delivery. This is standard industry practice.
Biscotto Stones International offer a guarantee during transport from our storage to delivery. Delivery is when our courier has reported the stone delivered. If your stone arrive broken/cracked, you must contact us immediately by email, and no later than 48 hours. This for the guarantee to be valid.